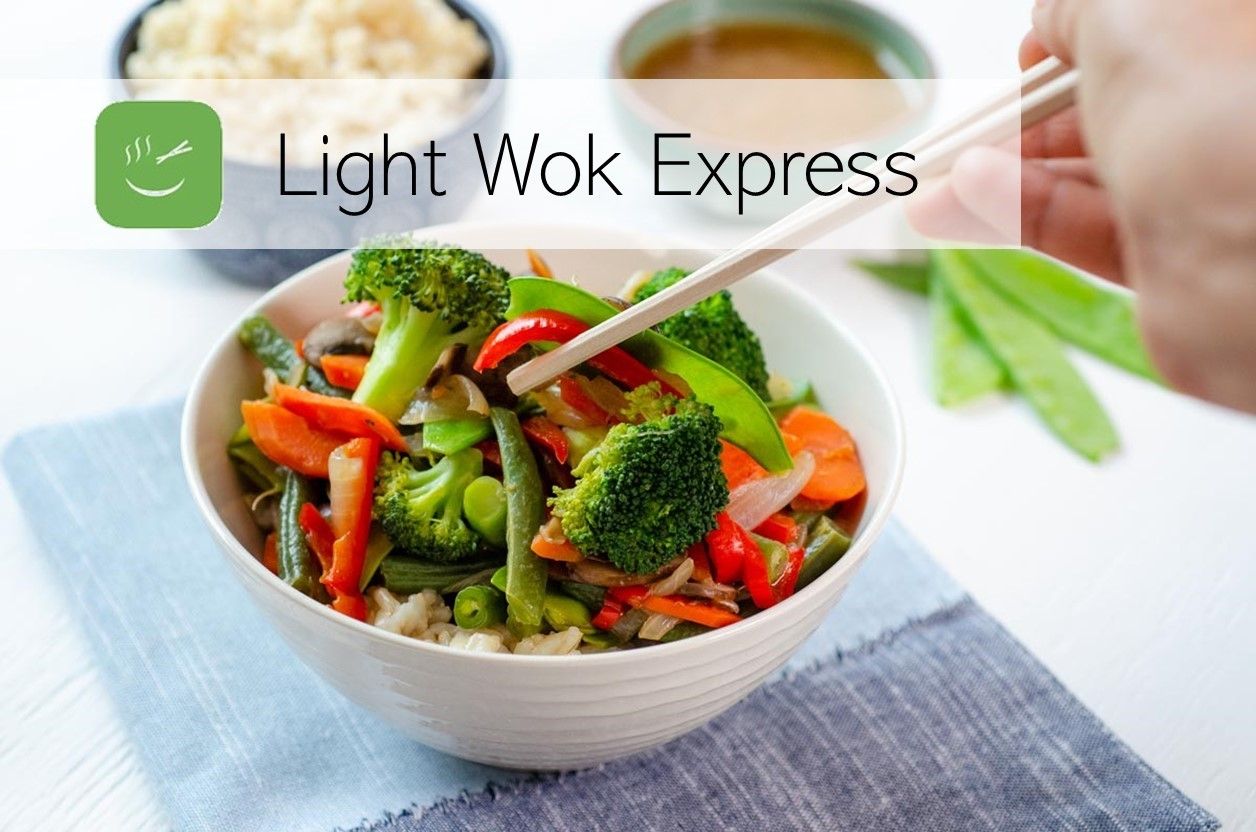 NEW PROMO! Mon - Wed FREE POP with any bowl over $15!...
We prepare your fresh cut food with a wok in front of you with our homemade sauces while using less oil, less salt and less sugar!
Made fresh for you (preparation time 15 min aprox)
$12 Light Lunch (11am-3pm in store pick up only)
INCLUDES 1 BASE + 1 SAUCE + 1 PROTEIN + 3 VEGGIES
Combos
Food Allergy Warning
Our food may contain or have come in contact with gluten, nuts, seeds & other allergens. Please inform us of any allergies before ordering.
Signature Bowls
B1. Kung Pao Sauce: contains seafood. B2. Sweet & Sour Sauce: Gluten Free, Vegan. B3. Pad Thai Sauce: contains seafood, mild spicy. B4. Teriyaki: contains chicken stocks. B5. Korean Spicy Sauce: medium spicy. B6. Soy Sauce: Vegan, (Gluten Free available upon requested.). B7. Butter Curry Sauce: contains nuts, mild spicy, Fish Sauce. B8. Orange Sauce: Vegan.
S1. SIGNATURE FRIED RICE
Signature Bowls
SOY SAUCE /W EGG, BACON, SHRIMP, GREEN PEA, CORN, CARROT, PINEAPPLE, GREEN ONION, PEANUT
S2. SIGNATURE STEAMED RICE
Signature Bowls
BUTTER CURRY SAUCE /W EGG, CHICKEN, TOFU, BROCCOLI, MIXED PEPPER, GREEN PEA, CARROT, PEANUT, FRIED ONION
S3. SIGNATURE EGG NOODLE
Signature Bowls
KUNG PAO SAUCE /W EGG, BEEF, MUSHROOM, BEAN SPROUT, CARROT, SPINACH, GREEN ONION, PEANUT
S4. SIGNATURE RICE NOODLE
Signature Bowls
PAD THAI SAUCE /W EGG, SHRIMP, TOFU, MIXED PEPPER, CABBAGE, BEAN SPROUT, MANGO, GARLIC, PEANUT
S5. SIGNATURE UDON NOODLE
Signature Bowls
TERIYAKI SAUCE /W EGG, BEEF, TOFU, CABBAGE, BEAN SPROUT, MUSHROOM, CHILLI, SESAME
S6. SIGNATURE GLASS NOODLE
Signature Bowls
KOREAN SPICY SAUCE /W EGG, CHICKEN, MUSHROOM, CABBAGE, BEAN SPROUT, CORN, CARROT, PEANUT, SESAME
S7. SIGNATURE SPINACH NOODLE
Signature Bowls
KUNG PAO SAUCE /W EGG, BEEF, BEAN SPROUT, MUSHROOM, MANGO, CARROT, GARLIC, PEANUT
S8. SIGNATURE VERMICELLI NOODLE
Signature Bowls
BUTTER CURRY SAUCE /W EGG, SHRIMP, BEAN SPROUTS, CABBAGE, MIXED PEPPERS, ONION, CHILLI, GREEN ONION, PEANUT
S9. Sweet & Sour Chicken on Rice (Till 3pm only)
Signature Bowls
A1. Build your own FRIED RICE /w egg
Build Your Own Stir Fry
A2. Build your own STEAMED RICE
Build Your Own Stir Fry
A3. Build your own EGG NOODLE
Build Your Own Stir Fry
A4. Build your own RICE NOODLE
Build Your Own Stir Fry
A5. Build your own UDON NOODLE
Build Your Own Stir Fry
A6. Build your own GLASS NOODLE
Build Your Own Stir Fry
A7. Build your own Spinach Noodle
Build Your Own Stir Fry
A8. Build your own Vermicelli Noodle
Build Your Own Stir Fry
A10. Build your own with NO BASE- Double Ingredients
Build Your Own Stir Fry
Just sauce and DOUBLE ingredients
Chicken Chimis
Wednesday to Saturday only
Mexican (Wed to Sat)
A delicious Chimichanga stuffed with Chicken Tinga and topped with lettuce, sour cream, cheese and Mexican Salsa
Quesabirrias
Wednesday to Saturday only
Mexican (Wed to Sat)
Mexican birria-style cooked beef folded into a tortilla with melted cheese and served with a side of salsa for dipping
Cochinita (Pulled Pork) Chimis
Wednesday to Saturday only
Mexican (Wed to Sat)
A delicious Chimichanga stuffed with Cochinita (Mexican style Pulled Pork) and topped with lettuce, sour cream, cheese and Mexican Salsa
Chicken Cochinita Chimis
Wednesday to Saturday only
Mexican (Wed to Sat)
A delicious Chimichanga stuffed with Chicken Cochinita (Mexican style Shredded Chicken ) and topped with lettuce, sour cream, cheese and Mexican Salsa
Enchiladas Verdes (Green Salsa)
Fridays & Saturdays only
Mexican (Wed to Sat)
Corn tortilla rolled around filled with chicken and covered in a savory sauce topped with sour cream, Spanish cheese, onions and cilantro
Out Of Stock
Enchiladas Mole
Fridays & Saturdays only
Mexican (Wed to Sat)
Corn tortilla rolled around filled with chicken and covered in Mole sauce topped with sour cream, Spanish cheese, onions and cilantro
Out Of Stock
Enchiladas House Sauce
Fridays & Saturdays only
Mexican (Wed to Sat)
Corn tortilla rolled around filled with chicken and covered in our House Sauce (a creamy salsa verde) topped with sour cream, Spanish cheese, onions and cilantro
Out Of Stock
Chilaquiles Verdes
Fridays & Saturdays only
Mexican (Wed to Sat)
A very traditional Mexican dish with corn tortilla chips sautéed with salsa verde and topped with cheese, crema (a sweet thin cream sauce), and onion
Out Of Stock
Chilaquiles Rojos (Red Salsa)
Fridays & Saturdays only
Mexican (Wed to Sat)
A very traditional Mexican dish with corn tortilla chips sautéed with red salsa and topped with cheese, crema (a sweet thin cream sauce), and onion
Out Of Stock
Guacamole
Fridays & Saturdays only
Mexican (Wed to Sat)
Avocado chunks, diced tomatoes, onion, cilantro, and lime with a side of Nachos
Out Of Stock
Pico de Gallo
Fridays & Saturdays only
Mexican (Wed to Sat)
Diced tomatoes, onion, cilantro, and lime
Out Of Stock
Tlacoyos (2)
Fridays & Saturdays only
Mexican (Wed to Sat)
Thick Tortilla stuffed with fried beans , top them with sour cream, onions, lettuce, and your choice of Chicken Tinga, Pork or Chicken Cochinita or Cactus salad
Out Of Stock
Sopes (2)
Fridays & Saturdays only
Mexican (Wed to Sat)
Top them with sour cream, cheese, onion, your choice of Chicken Tinga, Pork or Chicken Cochinita or Cactus salad, salsa on the side
Out Of Stock
E1. Spring Roll x4
Sides
Deep Fried, vegetables inside, no MSG, 4 Rolls
E1. Spring Roll x2
Sides
Deep Fried, vegetables inside, no MSG, 2 Rolls
E2. Wonton Soup
Sides
Pork & Shrimp Wonton /w green onion & seaweed
E4. Seaweed Salad
Sides
Out Of Stock
E5. Miso Soup
Sides
Tofu /w green onion & seaweed
E6. Deep Fry Broccoli (8 pcs)
Sides
E7. Deep Fry Shrimp (5 pcs)
Sides
E9. Sweet & Sour Chicken
Sides
E10. Battered Mushroom
Sides
E11. Extra Sauce on the side
Sides
E13. Steamed Beef Siu Mai (8pcs)
Sides
E14. Steamed Custard Buns (6 pcs)
Sides
E15. Steamed BBQ Pork Buns (6pcs)
Sides
E16. Steamed Shrimp Dumpings - Har Gaw (8pcs)
Sides
E17. Orange Chicken (Small)
Sides
E18. Sweet & Sour Chicken (Small)
Sides
Opening Hours
Tuesday
11:00 am - 8:30 pm
Wednesday
11:00 am - 8:30 pm
Thursday
11:00 am - 8:30 pm
Saturday
12:00 pm - 8:30 pm
Location
3051 Walkers Line, Burlington, ON L7M 0W3, Canada